The friendship between Selena Gomez and Taylor Swift is one that never fades away. Recently, on September 16th, Gomez shared two selfies on Instagram with Swift. The first picture showed the duo dining outside and both of them flashing their smiles at the camera. In the second image, Gomez gave a kissy face to the camera while Swift kissed her best friend on the cheek. Gomez captioned the post with a reference to Saweetie's viral song "Best Friend" as she called Swift, "Thas my best frien -she a real bad." The pair has been friends for well over a decade and have celebrated each other's successes through award shows, birthdays, concerts, parties, and more.
Gomez and Swift first met in 2008 through their romantic relationships with the Jonas Brothers. At that time, Swift was dating Joe Jonas, and Gomez was in a relationship with Nick Jonas. During an interview with KISS FM UK in December 2017, Gomez recalled how they met and dated the Jonas Brothers together. She also mentioned how they clicked instantly, and it was the best thing they got out of those relationships.
In October 2009, Gomez revealed in an interview with Seventeen that Swift is the friend she goes to for love advice. She stated that every single problem she ever had was healable by Swift, who has gone through it before. Gomez further added that she hasn't lost faith in love because of Swift as she believes in the whole love story, Prince Charming, and soulmates, just like her friend.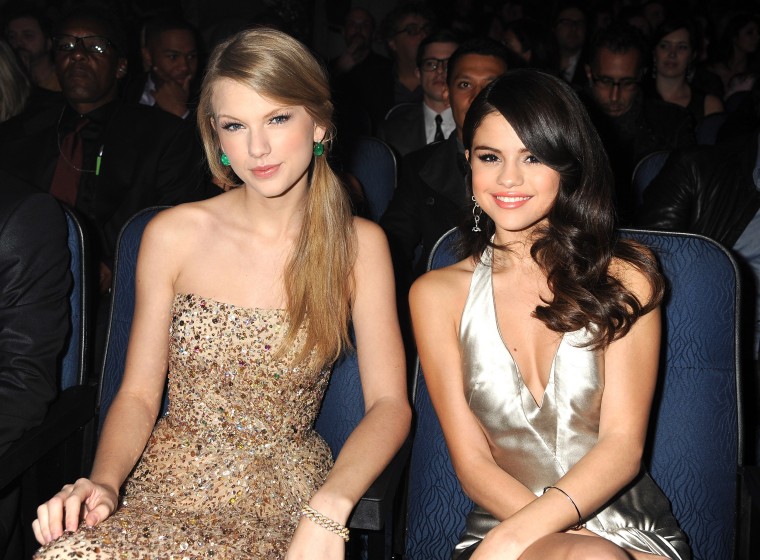 Back in 2011, Selena Gomez and Taylor Swift were seen attending various award shows together, including the American Music Awards held in Los Angeles. They were seated next to each other and took many photos with fellow celebrities such as Jaden Smith, Katy Perry, and Nicki Minaj throughout the night. This was a big year for their public appearances at award shows. Earlier in the year, they were seen together at the People's Choice Awards in January and the Vanity Fair Oscar Party the following month in February. Later that summer, they were also photographed at the Teen Choice Awards in August with Ashley Greene who stars in the "Twilight" series.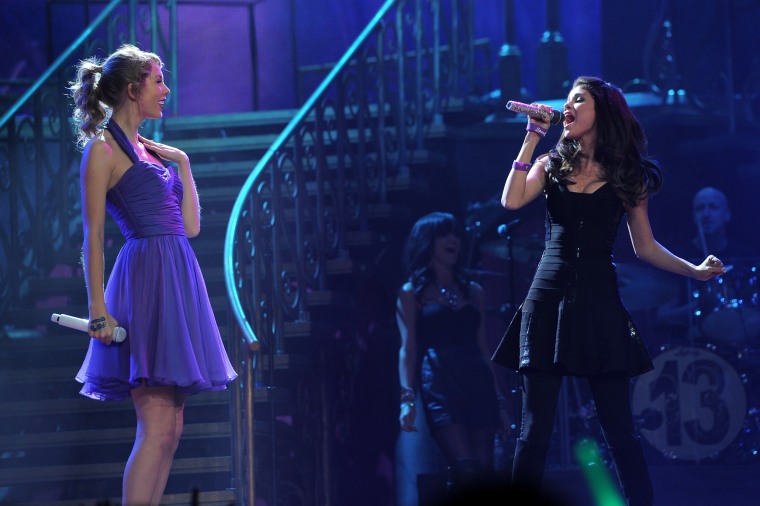 Taylor Swift is known for bringing surprise guests on stage during her tours, and during one stop on her Speak Now World Tour in 2011, she brought out two special guests: Selena Gomez and James Taylor. The duo sang a duet of Gomez's 2011 hit song "Who Says" to the crowd at Madison Square Garden. Their friendship has been going strong for years, with Swift revealing in a 2014 interview with E! News that their longevity is the secret to their bond. Despite the challenges of fame and being constantly in the public eye, both women have "stuck it out and hung in there through all the different changes we've gone through."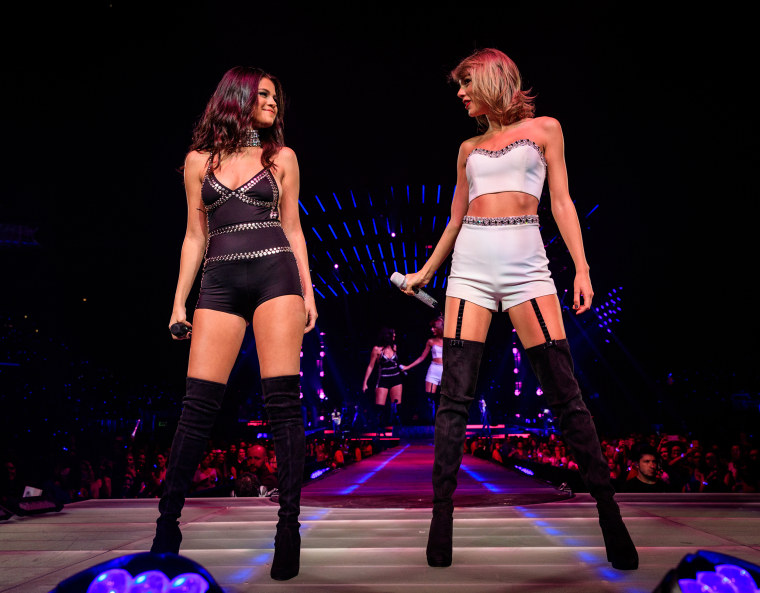 During her 1989 World Tour, Taylor Swift had a special surprise for her fans in Los Angeles. She invited her close friend Selena Gomez on stage to perform her popular song, "Good For You." This marked a significant moment for the duo, as they have been friends for almost eight years. Gomez took to Instagram to express her excitement, saying that they finally got the chance to perform together in front of thousands of people, and how much she loves Swift.
In addition to this memorable performance, Swift also attended the 2015 MTV Video Music Awards with her celebrity squad who starred in her "Bad Blood" music video. This included Gomez, Gigi Hadid, Cara Delevingne, Hailee Steinfeld, and Mariska Hargitay. Gomez shared a snapshot of the group on Instagram, calling them her "hottest dates" at the event. Swift's friendships with these famous faces have become headlines over the years, and her fans continue to be in awe of her glamorous and exciting life.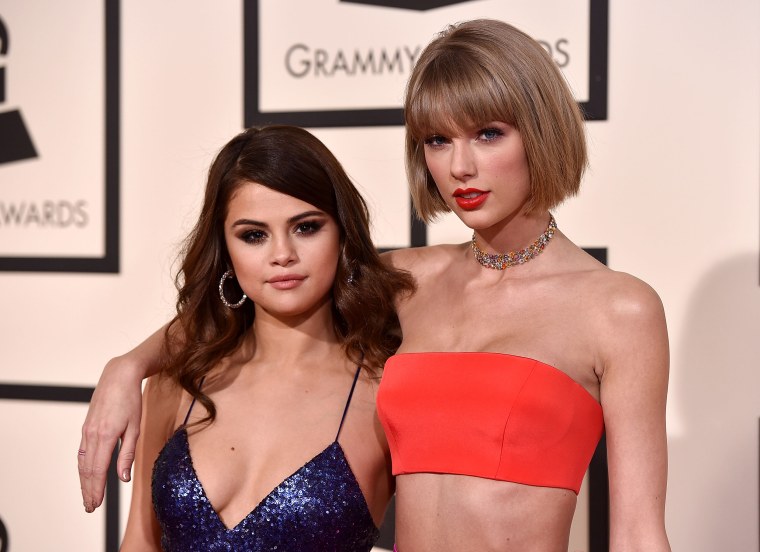 Selena Gomez and Taylor Swift showed off their strong bond as they walked together on the red carpet at the 2016 Grammy Awards held in Los Angeles. The duo made a statement with their presence and demonstrated that their friendship is still going strong. Swift posted a message on Instagram about her arrival to the event, where she referred to Gomez as her "hottest date". Later that night, Swift made history by becoming the first woman to win album of the year twice.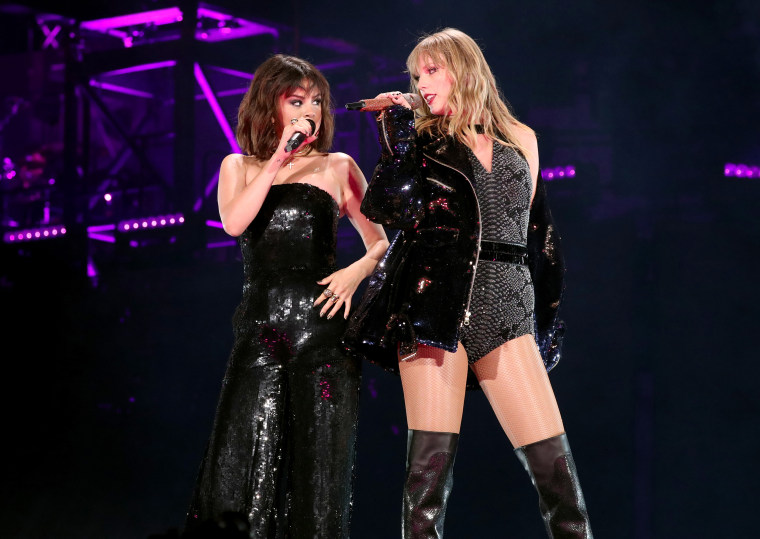 Selena Gomez and Taylor Swift are known for their close friendship, with Gomez often making surprise guest appearances on Swift's tours. During Swift's Reputation Stadium Tour in May 2018, the duo performed Gomez's hit song "Hands to Myself" while wearing matching black outfits. Swift later took to Instagram to praise Gomez's performance and express her gratitude for their friendship. The pair also discussed each other's music in separate interviews with Zane Lowe and Apple Music in October 2019, with Swift praising Gomez's song "Look At Her Now" and expressing her pride in her friend's journey.